El Sistema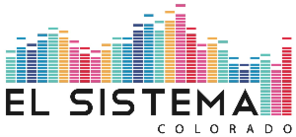 El Sistema Colorado is a visionary movement that transforms the lives of children through music; a new model for social change. Our mission is to empower children by providing an intensive music program that teaches the importance of teamwork, promotes self-confidence, and instills the value of social responsibility. El Sistema has been offering instrumental and choral ensembles at Garden Place Academy since 2012, and has since grown to neighboring schools Swansea Elementary and Bruce Randolph Middle School.
After school programming is available for all students, free of charge, for grades 2nd through 5th. During our after school programming, in partnership with the YMCA, students work with skilled Teaching Artists and other professionals on individual instrumental instruction, choral instruction, small and large ensembles, and participate in community events all throughout the Denver area! We start every afternoon with a nutritious snack and recess time. Students also receive individual attention and support on their classroom homework, and resources to grow not only as musicians but as star students and responsible citizens. Our participants advance through their educational careers at Garden Place and beyond, cultivating a community to support each other's musicianship, academic success, self-confidence, creativity and social-emotional development.
For more information on El Sistema, visit www.elsistemacolorado.org, or like us on Facebook!